October 26, 2018. The Freeport in Pampanga and Subic Bay Freeport in Zambales are taking more steps to handle the influx of Chinese tourists and investors, beginning with the training of their personnel in the Chinese language and culture. Mandarin lessons were part of the commitment made on Friday when Noel Manankil, Clark Development Corp. (CDC) president, and Wilma Eisma, Subic Bay Metropolitan Authority (SBMA) chair and administrator, signed a memorandum of understanding with Michael Tan, University of the Philippines Diliman Chancellor.
"To support Subic and Clark's tourism growth, we are pursuing capacity-building initiatives to upgrade the skills of their tourism front liners. This will allow them to effectively communicate with tens of thousands of Chinese tourists visiting Subic and Clark, brought about by the influx of cruise ships now calling on the Port of Subic Bay," said Lourdes Nepomuceno, director of the Confucius Institute at the University of the Philippines (CI-UP).
Mabalacat City Mayor Crisostomo Garbo signed a similar memorandum for a Mandarin language course in Mabalacat City College (MCC), one of the 145 League of Cities' colleges and universities.
Since 2017, CI-UP has been conducting language training for the personnel of the Bureau of Immigration, and the Department of Foreign Affairs. Chinese Mandarin for Managers will be offered for the Philippine Chamber of Commerce and Industry, Inc. members in 2019.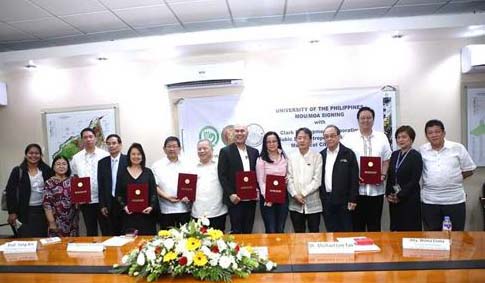 Clark Development Corporation (CDC) President Noel F. Manankil (3rd left) inked a Memorandum of Understanding with UP Diliman Chancellor Michael Tan (5th left) for a three-year partnership on Basic Mandarin language training as part of the capacity-building program of CDC. Also signing with UPD-CI are Subic Bay Metropolitan Authority Administrator lawyer Wilma Eisma (6th left) and Mabalacat City Mayor Crisostomo Garbo (7th left). Witnessing the signing are CDC  Chairman Jose De Jesus (4th left), League of Cities of the Philippines President and Angeles City Mayor Edgardo D. Pamintuan (6th right), UP Confucius Institute Director (CI-UP) Dr. Lourdes T. Nepomuceno (5th right) Xiamen University VP Yang Bin (4 th right), Mabalacat Councilor Rox Pena (3 rd right), Angeles City Economic Enterprise Office  Executive Director, Marco D. Nepomuceno (1 st left), CDC Tourism Promotions Manager Noemi  Julian(2 nd left) and other officials from Mabalacat City College.